University Settlement Day Care is a very special place!
Located in University Settlement's unique setting on Grange Park, in the heart of downtown Toronto, children participate in a wide range of activities, all of which have been adapted to meet strict government COVID-19 health and safety protocols. Our Early Childhood Educators are creative, caring professionals who ensure high quality programming under these restrictions that supports the social, cognitive, creative, emotional and physical needs of each of the infants, toddlers and preschoolers in our care.
Our exceptional licensed program offers a nurturing environment that encourages children's creativity, self-expression, and respect, while fostering their imagination, curiosity, and intellect. Structured, challenging, and age-appropriate cognitive activities help children understand cause and effect, develop hand-eye coordination, improve literacy, and help develop conceptual thinking and problem solving.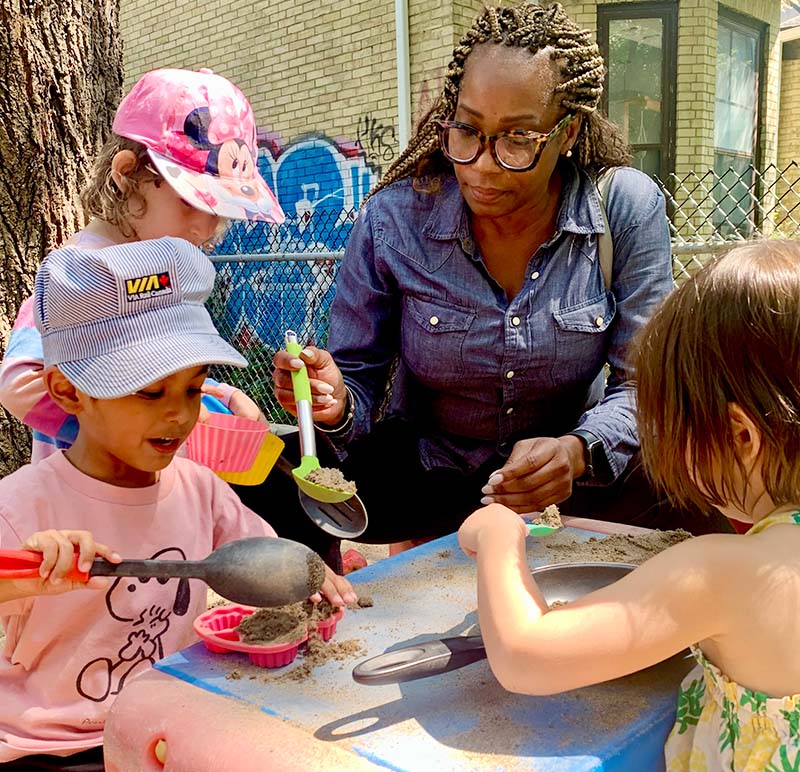 Registration / Waiting List
If you are interested in adding your name to our waiting list, please fill out our Application Form and email it to daycare.services@universitysettlement.ca. Remember to check in every 6 months to keep your application active.
Parenting through the pandemic
2021 was a tough year to be a parent. Parents struggled with balancing working from home, helping kids with their schoolwork, and worrying about the entire family's safety and health. For those with young children, it was especially difficult to make the decision to return to
Day Care when the pandemic continued to rage.
At the University Settlement Day Care, we worked hard to make that decision easier for parents. Our enhanced health and safety measures assured parents that their children were kept as safe as possible. Our educators did everything in their power to create warm and inviting spaces where children could thrive in a positive learning environment.
"I was worried about what it would be like for my child to interact with caregivers in masks and protective gear and be distanced from peers in addition to her health and safety" said Elizabeth, a University Settlement Day Care parent. "My fears were alleviated when we were welcomed back warmly. The kindness and genuine affection of the Day Care staff towards my child shone through the masks and PPE. University Settlement was a great choice for us as the values of the Day Care best mirrored our own. We have tremendous gratitude towards the team that has taken such good care of our family throughout this challenging time. Our child will be joining Junior Kindergarten this fall, but we will surely be returning for next year's summer camp."
Brianne's Story –
Returning to Normal
The Day Care had a lot of restrictions in place during the pandemic to ensure the safety of children. Parents were not allowed to enter the premises. It was tough on the parents, Brianne, one of our parents who has two children enrolled, the first during the pandemic and the second post-pandemic shares her experience on how it was different for her this time around.
"Our oldest child started at University Settlement Day Care during the height of the pandemic. Due to COVID-19 restrictions, we didn't have a chance to tour the facility and we weren't allowed inside the Day Care to help ease him into his new routine. This made us a bit worried about how he would handle the transition, but the Day Care staff quickly eased our concerns with their cheerful greetings at drop-off each morning and open communication throughout the day.
When our second child started Day Care towards the end of 2022, restrictions were starting to lift, and I was able to join him for the first few days while he settled in. Being able to spend time in his classroom, get a sense of his daily routine, and get to know his teachers was a really nice experience that made it easier for both of us.
I cannot say enough good things about the staff at University Settlement Day Care. They're caring, kind and supportive and have done a fantastic job creating a sense of normalcy for our children during such a challenging time."
– Brianne Gavigan